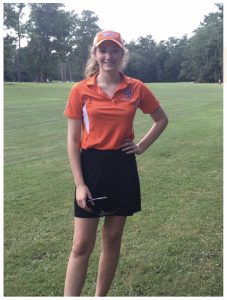 SARA'S STORY
WRITTEN BY HER MOM, LENNIE WOODS…
Sara's story begins on a mission trip to rural Guatemala, where she began experiencing an excruciating stomach pain that local doctors could not treat. After a middle-of-the-night emergency ride on grueling back roads through areas known for drug trafficking and extortion or worse. Sara and her mother made it to the hospital in Guatemala City. Sara underwent immediate surgery to remove a malignant tumor from her intestines.
Once well enough, Sara flew home to Charleston, SC were she was immediately admitted to the pediatric cancer ward of MUSC. A serious infection developed and Sara spent the next 23 days fighting for her life in the hospital. When she finally went home it had been over a month since her initial trip to Guatemala. Her doctors had a diagnosis: clear cell like sarcoma of the soft tissue. Sarcoma is rare and Sara's cancer is considered the rarest of the rare. Sloan Kettering Memorial Hospital in New York confirmed it to be the gene fusion of EWSR1 – ATF1.
Though the main tumor had been removed with surgery, there were still other inoperable spots in question. Doctors disagreed on whether they were metastasis or infection. From there, Sara went to MD Anderson Cancer Center in Houston, Texas, the team felt she had infection and wanted to wait to treat and see if any areas got bigger. Sara had scans every six weeks to make sure the targets were getting smaller. She had one scare where a spot near her liver looked larger, but a surgical biopsy revealed that it was vegetable matter, no cancer.
Sara continued to travel to Houston every six weeks and after no signs of growth, her final PET scan was in March 2016.  Her doctors decided to have an MRI done in Charleston to use as a baseline.  Every 12 weeks, Sara was scanned at MUSC, with no new growth. Good news.
But not long after, Sara began having severe pain in her side and back. This triggered a series of tests including a HIDA scan which revealed a bad gallbladder. On October 26, 2017 Sara's gallbladder was removed along with the ball of infection—a fungus ball— that had been the source of concern near her liver. Though she'd had another surgery, things seemed positive, that Sara had been spared from cancer.
During the 2017 holiday season, Sara began experiencing night sweats and intermittent abdominal pain.  She had just started taking a new medicine and at first, her symptoms were attributed as side effects. No one thought this horrible cancer was back. Sara had just had more scans with stable or reduced targets showing the infection area were being absorbed by the body.
MLK weekend Sara slept a lot and still was experiencing the night sweats. Sara went to the doctor about the night sweats she was still experiencing. Her doctor ran a basic blood panel and found hemoglobin was low yet her iron was ok. Something was not right. This triggered the next battery of scans and blood work and a month in two separate hospitals.
After seeking several opinions, it was decided that Sara needed to go back to a cancer center. But because of an insurance change, Sara could not go back to MDAnderson without an upfront payment, even though her team had been there for 18 months.
Enter Memorial Sloan Kettering . Since Sara had a second opinion there in 2016, she was already considered a patient. They were the only hospital with the technology to diagnose the tumor gene fusion. They helped get Sara from her hospital bed in South Carolina to MSK in New York within a few hours. They did the biopsy and on Feb. 2, 2018 they gave the news that the cancer was back.
This time the tumor had grown to over 5cm after staying stable over a year and had reached several lymph nodes. Dr. Singer and his team of medical rock stars removed a mass of gnarled infection and tumor along with two feet from Sara's small intestine from about the same spot as the original surgery.  Pathology reported it to be the same.  Dr. Singer investigated her entire gastrointestinal tract and removed infection from other areas and washed her belly out.  It was a very difficult surgery for Sara and the following 24 hours were severely painful.  She had a private nurse and spent the night in the ICU because her blood pressure was extremely low.  She had several blood transfusions and meds had to be closely monitored.
Sara has endured more pain and physical suffering than most people will in a lifetime. She thinks she is weak but in reality, Sara is incredibly strong. This beast called Sarcoma is vicious and relentless. It spent the last year and a half stewing silently until her strong young immune system could take no more and it grew into a monster quickly.
Chemotherapy nor radiation have been proven to do any good. Possibly the opposite. So Sara's only hope is resection if and when it returns or a targeted therapy that can silence the mutation so her own immune system can keep her healthy.  Science is moving rapidly in this direction of immunotherapy and fastest for the more common types of breast, lung and colon cancers.  The same mutations are many times found in Sarcoma like Sara's but it is low on the research priority list.
This is where we need your help.  We are working with a researcher to fund work strictly on the EWSR1-ATF1 gene fusion as it relates to the GI tract. Obviously this is very expensive work and we need all the help we can get. It may be expensive to fund, but it's vital. It's there we will find a cure for Sara and many others that suffer with these orphan tumors.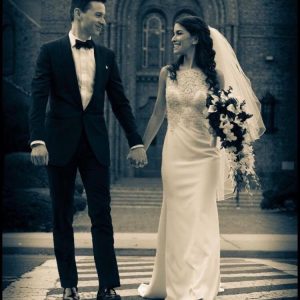 SCOTT'S STORY…
October 2015: In connection with an annual doctor's appointment, my blood work came back that my hemoglobin was extremely low. I had generally been feeling fine so my doctor ordered another blood test since maybe it was lab error. When the second lab test confirmed the low hemoglobin count, I was sent to the emergency room. I spent 5 nights there, where I had 2 blood transfusions, an iron infusion, colonoscopy, endoscopy and a CT scan. The results of these tests came back clean, but my hemoglobin still wasn't going up much. I was released from the hospital with unexplained iron-deficiency anemia. When they started to ask me my symptoms, they weren't anything I ever thought about. I had weight loss of 15-20 lbs over the past 6 months, but I thought I was just eating healthier and being more active. I also got winded easily, but I was never really in good shape to begin with. There was nothing else to suggest such a great loss of blood. No trauma or blood visible in the urine or stool.
After my hospital visit, I saw a gastroenterologist who performed a capsule endoscopy. It's pretty much the Magic School Bus going through my GI tract taking pictures every so often. This test also came back negative. For the next 12 months, I would see the same hematologist who would put me on iron IV every couple of months to keep my hemoglobin as high as it could, but I was still anemic.
August 2016: I proposed to my fiancee, Jenae (she said yes!) and we set a wedding date for December 2017.
December 2016: I decided to see a new hematologist who did a stool sample analysis. They found traces of blood in my stool and they had me go see a GI. I had a colonoscopy and endoscopy re-performed, which again came back negative. Since these tests do not show the full picture of the GI tract, another CT scan was ordered.
February 2017: This time, a mass was found in my small intestine and lesions were found in the liver. A biopsy of my liver lesions came back inconclusive. We decided to go see a surgeon at Memorial Sloan Kettering. There, Dr. Allen recommended surgery to remove the mass from the small intestine and biopsy the liver. I underwent the surgery a week later in March 2017, spent 6 nights in hospital and got the biopsy results 2 and a half weeks after my surgery. The biopsy results came back as clear cell sarcoma of GI tract that had spread to the liver. A diagnosis so rare, that Dr. Allen had never seen it before. He immediately connected us with Dr. Gounder, a sarcoma oncologist at MSK.
May 2017: I had another CT scan which showed the lesions in the liver grew. At this time, I was healed up from the surgery and I was able to begin treatment. Since there is no drug available to target the EWSR1-ATF1 gene fusion that my tumor presented, Dr. Gounder recommended a targeted therapy drug, Votrient (pazopanib), which is FDA approved for advanced soft tissue sarcoma. I seeked second opinions at MD Anderson as well as at Northwell Health on Long Island. All of them agreed Votrient was a reasonable first step.
December 2017: Jenae and I had the most beautiful wedding on Long Island, NY.
As of the time that I wrote this (May 2018) I have been on Votrient for over a year now and my CT scans have shown a slight decrease in tumor size and I am considered to have stable disease. I understood how rare this disease is, and was searching throughout internet cancer boards for anyone else who has experienced this. I also set up Google alerts for "clear cell sarcoma" for anything that might be in the news about it. One day, I got a Google alert and saw an article about Sara and Sara's Cure in a local newspaper in Charleston. I read Sara's story and saw the similarities of our medical journey's. I immediately reached out and shortly thereafter, set up a FaceTime call with Sara and her parents. I was so impressed by how knowledgable they were of this rare disease and the connections they have already made at MSK and Oregon Health and Science. The support to find a cure for this disease had instantly doubled.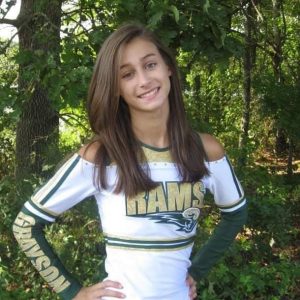 UGA STUDENT, NATALIE, WILL BE 21 IN OCTOBER 2018
BUT THE PAST 3 YEARS HAVE BEEN QUITE A BATTLE…
The summer before Natalie was a senior at Grayson High School, she was attending conditioning for her competition cheer team. Her coach reached out to us and said that Natalie was getting very fatigued during conditioning. We knew it was strenuous but decided to follow up on the coach's recommendations and took her to the doctor.
After an examination, we convinced the doctor to do a blood test. Her counts showed she was extremely anemic. Since Natalie had stated she had some abdominal pain, the doctor referred us to a gastroenterologist.
A series of tests were done including a colonoscopy and an endoscopy. They discovered several small ulcers in her stomach and started treating her for those. After several weeks, her anemia had not changed, so more tests were done. A sample showed blood in her stool, so they decided to do an MRI to identify if there was something not seen in the endoscopy which only sees the upper GI and the colonoscopy which only sees the lower GI. No test could see in between these.
The MRI result showed a mass or cyst in her intestines. They stated it was about 5 cm and wanted to do a biopsy. By this time, Natalie had already started her senior year and had still been doing the competitive cheer competitions.
We met with the surgeon and he explained that they were going to do the biopsy and he said he might remove the cyst or mass if he was able to. After the procedure, he spoke to us and stated, the mass was larger than thought and he could not remove all of it, but he said it was wrapped around her intestines and he ended up removing a 30-inch portion of her small intestines. He said it was definitely a malignant tumor and he said there were many more tumors that would have to be removed. This was the first time it was confirmed she had cancer. We were devastated and our lives completely changed.
The recovery was very difficult. Natalie missed a couple weeks of school and she had many AP classes. Her teachers, coach and teammates were terrific during this time.
We met with the oncologists at Children's Healthcare of Atlanta to determine what course of action to take. It took over 3 weeks to find out what specific cancer we were facing. Samples were confirmed at Washington University in St. Louis that this was Clear Cell Sarcoma of the gastro-intestinal tract. This is very rare form of cancer, that at the time there were only about 100 known cases globally. The doctors informed us that there was no cure and no real treatment plan.
One bright thing during this time was that Natalie was accepted to the University of Georgia. We were super happy, but not sure it would actually happen. But she was very determined to fight this cancer.
Another surgery was scheduled, and Natalie had the remaining tumors removed from the mesentery lining. Natalie healed and developed an infection and spent another week in the hospital – discharged Christmas Day.
Additional scans were scheduled. These scans revealed the cancer had metastasized to her liver and lungs. Although there were no known treatments, her oncologists discussed trying Votrient- an oral chemotherapy treatment. We discussed and read about the side effects and Natalie decided she would like to start this. She started on the highest dose – 800 mg daily.
The first couple months were tough. Natalie felt terrible but kept up her school work and continued the treatment. Natalie has always kept her hair long and she had dark brown hair. One side effect was her hair turned white – eyelashes, eyebrows and the hair on her head. Friends and family donated money to have her hair colored to help her feel better.
Three months later she had scans and the tumors were shrinking. The next three months still showed improvement. After six months on this treatment, her kidneys started being affected and she had to adjust the dose down.
Natalie started her freshman year at UGA. She wants to be a teacher for early childhood education. We enrolled her in the Disability Resource Center at UGA to help with when she needed to misses classes due to the many doctor appointments. They have been a tremendous help.
After nearly a year on this medicine, the tumors stopped shrinking and some new growth started. It stopped working and was discontinued.
Oncologists suggested another immune-therapy medicine Opdivo. Natalie started this during her second semester in college. This was not an oral medicine and she had to go for infusions every couple weeks. Side effects were worse, but she made it through her school year. Her scans at the end of this showed that Opdivo did not work at all and actually everything was worse. New tumors where found in and on her liver and her lungs.
We were introduced to a Phase 2 clinical trial and met with this oncology team – this is a two-year trial. They determined she would be a good candidate and Natalie wanted to try it. The trial includes a combination of four drugs (all taken orally). This combination had more side effects. Within three weeks, Natalie started losing her hair and eventually lost most and decided to shave her head. She has been wearing head scarves since.
Natalie is in the second year of this clinical trial and she just began her junior year at UGA. We don't know what the future will be. She has so much she still wants to do in life. She is very determined to beat this cancer and live out her life to the fullest.
Michael and Sandy Staffieri
*Update: Sadly Natalie lost her battle with CCS on March 1, 2019
HENRY'S STORY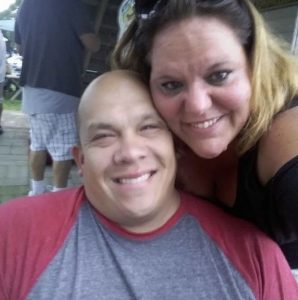 I was 37 when I was first diagnosed with clear cell sarcoma of the foot. Because they caught it to late the tumor was all in my foot and wrapped around my ankle bone so the only choice I had was to do below the knee amputation. I was nervous but knew that was my only option. I was told after surgery that they got all the disease and I was happy for that but I knew I had a long road a head of me. I had to learn to walk again and it was tough but I did it! I was NED for almost 2 years. Then at the end of December 2017 the scans showed reoccurrence. The cancer was behind my knee and it has spread up my lymph nodes to my pelvis area and I have two spots on my lungs. The doctor told me it would a tough fight and it has been but I am doing it! I am giving it  my all! I have the best support system ever! I have my beautiful girlfriend, Kerrie, who has been by my side every step of the way. I have my kids, my parents, who have been in my corner from the beginning and my family and friends. I am grateful that Kerrie met Lennie Woods and that Lennie reached out to her. My doctor tells me that clear cell sarcoma is so rare that unfortunately there is not that much research being done on it so we need funds and donations!  We need to find people who are willing to donate their time and find a cure. You see, clear cell sarcoma dose not get enough exposure and we need to fix that so please donate! Push that button and help us find a cure for this awful disease.
– Henry
* Shortly after Henry submitted his story he sadly lost his battle with clear-cell sarcoma. We will continue to keep his wife, friends and family in our hearts and prayers and always remember Henry's strength and sense of humor.
AUDREY'S STORY – Written by her mother Jill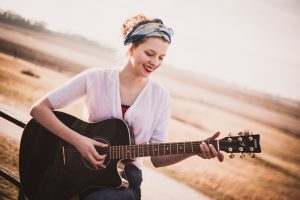 In October 2017, the beginning of Audrey's senior year, she had been complaining about how fatigued she was. We took her into the doctor and he ran a mono test which came back negative. She struggled the rest of her senior year but pushed through and rallied to do the things she loved, Audrey was homeschooled so I allowed her to sleep in but she still was so tired.
In January 2018 she began with sinus/cold symptoms she just couldn't shake and in March began to have sudden stomach pains and strange fevers and occasional one time vomitting. They left as quickly as they came. In April we were buisily shopping for her prom dress and she had her time filled with rehearsing for the upcoming Musical, The Little Mermaid, where she played Ariel. She would rally in rehearsals and come home and crash. Part of it, I was thinking, was senioritis, nerves, etc. One minute she was fine and bubbly and the next something just didnt seem right. In hindsight I look back and can see in pictures her loosing weight but in the midst of it it was so subtle we didn't catch it.
In May of 2018 she was working with her godmother and I at a park we tend and she just doubled over with pain and then it passed again as quickly as it came on. I told her we needed to go to the doctor but in the craziness of life and senior activities and parties it never happened, which in my opinion may have been for the best. The first of June we ventured on a much needed, long overdue vacation. While on vacation we took her into an urgent care where she was treated for a sinus infection and put on probiotics and gas relief as the doctor heard a lot of gassy sounds in her abdomen. We got home on June 11th. She got sick to her stomach on Thursday or Friday that week and then again Saturday night.
On Father's day our church was having an outdoor worship service in the city park and Audrey was leading two songs, one being an orginal she wrote. Even though she felt awful she said she was suppose to be there and sing. It was beautiful and in hindsight again I realized just what a strong, courageous young women she is. We came home from church and had the family over for dinner and games. Audrey ate and then got sick again and curled up on the couch. Her sister, Jena, looked at me and I at her and we knew this had now turned into an emercency. I told my husband she needs to go the ER and he scooped her up and carried her to the car. They examined her and ordered a CT with contrast. I overheard the doctor saying maybe pancreatitis or appendicitis. I texted everyone I knew to begin praying. Her blood work showed she was anemic and the doctor came back and said to her, "I'd like to tell you this is all in your head, but its not. We found a large fatty black mass in your small intestine." They called our GI surgeon and they scheduled surgery for the next morning. The Lord was with us and the doctors for sure. The doctor opened her up, saw the mass and stopped pathology from leaving and said this had to go with them ASAP. He took 8" of her small intestines, lymphnodes, and the tennis ball size mass. He told us it was probably cancer but he, nor anyone on the surgical team had ever seen anything like this. The pathology report was sent for a second opinion to Dr. Fletcher at Harvard University and the diagnosis came back as clear cell sarcoma like of the GI tract. We were taken back and even more so as no one new what this was and had never heard of it.
Audrey was in the hospital for 8 days and came home to recover. We have spent the last 9 months at different hospitals and oncologists with still very little if any explanation of what this was, how to treat it, etc. Researching it on the internet all we found were pathology reports and repeats of studies on the same pathology reports. What we were told is this is the rarest of the rare.
In October of 2018 our church had a night of worship as a benefit for our family, and because it was in the paper, Scott Heller, another young man with ccslgt found us and contacted Denny and Lennie Woods from Sara's Cure.
Lennie contacted me and being internet cautious I hesitated in responding but I eventually did respond to Lennie and Praise the Lord every day that I did. What a wonderful connection and HOPE we gained by connecting with them. Since then we have met with Denny and Lenny at cc-TDI in Portland to join in on this much needed research.
As a mother I am ever greatful for another mother to talk to about our daughters and gain insight to this horrible disease. We are currently still trying to find the best place for her to receive the best care. The frequency of scans and testing caused Audrey to postponed worship school but continues to work on her art with "The Little Artist That Could" and lead worship at church and other places. We are believing for a miracle for Audrey, Sara, Scott and other's affected by this and are so excited for research being done at cc-TDI. We are trully blessed to know the Wood's and be connected with Sara's Cure.
Sara's Cure is a nonprofit 501(c)3 organization.  Tax ID# 82-5445706. Copyright © 2018 Sara's Cure – All Rights Reserved.
SHAPE UP WITH SARA'S CURE
SUPPORTING SARA'S CURE