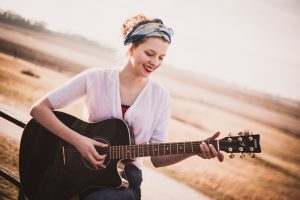 In October 2017, the beginning of Audrey's senior year, she had been complaining about how fatigued she was. We took her into the doctor and he ran a mono test which came back negative. She struggled the rest of her senior year but pushed through and rallied to do the things she loved, Audrey was homeschooled so I allowed her to sleep in but she still was so tired.
In January 2018 she began with sinus/cold symptoms she just couldn't shake and in March began to have sudden stomach pains and strange fevers and occasional one time vomitting. They left as quickly as they came. In April we were buisily shopping for her prom dress and she had her time filled with rehearsing for the upcoming Musical, The Little Mermaid, where she played Ariel. She would rally in rehearsals and come home and crash. Part of it, I was thinking, was senioritis, nerves, etc. One minute she was fine and bubbly and the next something just didnt seem right. In hindsight I look back and can see in pictures her loosing weight but in the midst of it it was so subtle we didn't catch it.
In May of 2018 she was working with her godmother and I at a park we tend and she just doubled over with pain and then it passed again as quickly as it came on. I told her we needed to go to the doctor but in the craziness of life and senior activities and parties it never happened, which in my opinion may have been for the best. The first of June we ventured on a much needed, long overdue vacation. While on vacation we took her into an urgent care where she was treated for a sinus infection and put on probiotics and gas relief as the doctor heard a lot of gassy sounds in her abdomen. We got home on June 11th. She got sick to her stomach on Thursday or Friday that week and then again Saturday night.
On Father's day our church was having an outdoor worship service in the city park and Audrey was leading two songs, one being an orginal she wrote. Even though she felt awful she said she was suppose to be there and sing. It was beautiful and in hindsight again I realized just what a strong, courageous young women she is. We came home from church and had the family over for dinner and games. Audrey ate and then got sick again and curled up on the couch. Her sister, Jena, looked at me and I at her and we knew this had now turned into an emercency. I told my husband she needs to go the ER and he scooped her up and carried her to the car. They examined her and ordered a CT with contrast. I overheard the doctor saying maybe pancreatitis or appendicitis. I texted everyone I knew to begin praying. Her blood work showed she was anemic and the doctor came back and said to her, "I'd like to tell you this is all in your head, but its not. We found a large fatty black mass in your small intestine." They called our GI surgeon and they scheduled surgery for the next morning. The Lord was with us and the doctors for sure. The doctor opened her up, saw the mass and stopped pathology from leaving and said this had to go with them ASAP. He took 8" of her small intestines, lymphnodes, and the tennis ball size mass. He told us it was probably cancer but he, nor anyone on the surgical team had ever seen anything like this. The pathology report was sent for a second opinion to Dr. Fletcher at Harvard University and the diagnosis came back as clear cell sarcoma like of the GI tract. We were taken back and even more so as no one new what this was and had never heard of it.
Audrey was in the hospital for 8 days and came home to recover. We have spent the last 9 months at different hospitals and oncologists with still very little if any explanation of what this was, how to treat it, etc. Researching it on the internet all we found were pathology reports and repeats of studies on the same pathology reports. What we were told is this is the rarest of the rare.
In October of 2018 our church had a night of worship as a benefit for our family, and because it was in the paper, Scott Heller, another young man with ccslgt found us and contacted Denny and Lennie Woods from Sara's Cure.
Lennie contacted me and being internet cautious I hesitated in responding but I eventually did respond to Lennie and Praise the Lord every day that I did. What a wonderful connection and HOPE we gained by connecting with them. Since then we have met with Denny and Lenny at cc-TDI in Portland to join in on this much needed research.
As a mother I am ever greatful for another mother to talk to about our daughters and gain insight to this horrible disease. We are currently still trying to find the best place for her to receive the best care. The frequency of scans and testing caused Audrey to postponed worship school but continues to work on her art with "The Little Artist That Could" and lead worship at church and other places. We are believing for a miracle for Audrey, Sara, Scott and other's affected by this and are so excited for research being done at cc-TDI. We are trully blessed to know the Wood's and be connected with Sara's Cure.