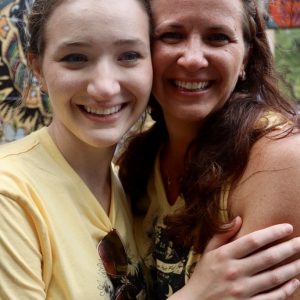 Welcome
I am Lennie Woods, Executive Director of Sara's Cure, but more importantly I am Sara's mom. I deeply love someone with Clear Cell Sarcoma and I am driven to have the CCS voice heard. When Sara was first diagnosed the doctors had us believing we were one of very few families living with CCS and possibly the only one with the GI version. They told us there wasn't any treatment specific to this rare cancer. After getting three different opinions from major NCI cancer hospitals we knew that we were going to have to become experts in what information was out there about Clear Cell Sarcoma.
My husband and I read everything we could find which wasn't very much. I will never forget the day I met the first patient with CCS besides my Sara. It felt like I met a long lost friend on a deserted island. When I met another mother for the first time she was instant family to me as someone who understands the shear disbelief and fear that engulfed me when I realized I may not be able to protect my child or even find help from someone who can.
Even if CCS is a family we wish we were not part of I am so thankful for each and every member that has shared the journey and continues to help others. The CCS family Facebook page that was formed by a former patient many years ago was created to give a rare population of CCS patients and caregivers a means to share information and support each other. The members and their stories along the way have given me the inspiration and drive to seek out others that are also willing to be champions for Clear Cell Sarcoma. Thanks to a unique set of lifelong friends Sara's Cure is able to make strides ahead and continue this important work so that one day no one will hear that they have a disease without a Cure. We are here for you. Sara's Cure is your cure.
Kindly,
Lennie Woods
Executive Director/Co-Founder/Sara's Mom